Bio
British-born singer songwriter Charleesa opens the heart and mind through mellifluous melodies and intimate lyrics that she delivers with the passionate sincerity of a crusader, and the sensitivity of a healer. She desires to inspire people with her current repertoire which is written with an optimistic outlook; these songs are as elevating as they are evocative.
'We humans, are different yet all from the same source.
We feel, we dream and we want to be happy.'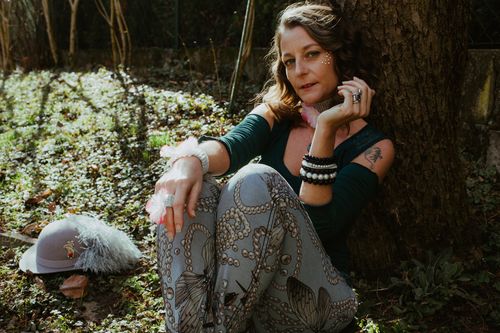 Composing in the moment using her voice as her instrument, Charleesa sings to express thought, feeling & observation. Songs flow from her and she's in a peaceful yet powerful place, where lyrics both lead and follow the melody she feels; words & sound - created as one. She records her sound with a Boss BR600 & documents lyrics. When directing & co-creating audio elements in studios with musicians & producers, she often provides visual ideas to depict how the music will convey the essence of her theme.
   A musical family history and her own passion for singing, writing lyrics & performance meant that she discovered her vocal abilities at a young age. Singing was part of home-life and she was raised on music, her beloved Mother was her greatest supporter always boosting her confidence to take to the stage whenever the opportunity arose. She formed an all girl band at school with friends and entertained classmates with a duet of her first poetic lyrical melody at aged 14. Continuing to sing at various venues, she started making captivating songs with meaningful messages, embracing an abundance of creative freedom she experienced from her lifestyle and surroundings. Singing acapella, she sent rooms into a level of silence which at first was both astounding and intimidating to her but the positive reactions she received encouraged her to introduce her original material, enchanting the audience with her voice and distinct personality.
Studio recordings sessions began in England in 2013 and when a friend called from the Himalaya's to say that they had reached the top of the mountain whilst playing her jazzy song 'Keep Climbing' it offered a new insight into how her music could affect people. That was the moment she decided to compile a collection of her most motivating compositions; her passion now going beyond a need for expression to becoming her true purpose. 'Music gives me so much and is also my gift to give, my souls mission to undertake'.
She was a lead singer songwriter in a band, was interviewed for a magazine in Nepal & played at renowned markets and cafes as well as hosting her own weekly live session evenings in India. She collaborated with musicians in England and India bringing new dimensions to her songs which she recorded & showcased when supporting local artists at a secret cellar bar in South England. She was featured on one of Brightons underground radio show in 2016 performing her songs and talking about her explorations within her own sound.
 Austria has become her home where she recorded & released single versions of her songs in a groovy pop style, they were played on various online radio radio shows including local stations KronehitYAM, KronehitLOVE plus on America's Women Of Substance Radio & A.V.A's Live Radio who also interviewed her about her musical process. She has played at local venues including Eden Bar & Tunnel Live and the musical journey sent her flying to Ibiza in 2018 and to Valencia where she performed at the renowned Radio City in 2019.
Charleesa's eclectic influences range from pop divas such as Madonna, Kylie, Kate Bush & Nina Simone to iconic acts such as Elvis, The Beatles & Pink Floyd. Some of her favourite fellow artists include Aurora, Fia, Florence Welch, Dub FX, Jaime Woon, Nihils, Parov Stela, Lamb, & Faithless; while soul, funk & motown, mantra's & ambient spiritual music are all creatively formative genres.
What is her style then? you ask, 'diverse and unrestricted' is her answer followed by: 'No box(es) please!'
Her music is power pop, bursting with positive affirmations and drenched in sunshine with ethereal elements.
 Charleesa just loves to experiment, creating various versions of her songs in different styles including acoustic & jazz.
Her songs have been remixed by a house music production team and samples have been used by DJ's within trance tracks fusing her own sound with different genres enables Charleesa to reach wider audiences with her influential music and send her messages further.
'In Sunland' was released in May 2017 and went straight into the iTunes charts. Written on a Goan beach, the songs catchy lyrics & groovy vibe will transport you to any sunny spot on the globe in your mind. 
 'Things to smile about' a second single version was released in July 2018. A happy song reminding us to remember the good things in life which keep us laughing, whatever the weather; get out your umbrella & dance.
A third single 'Powerhouse' was released in December 2018 with an Official Lyric Video. This empowering song, with its strengthening lyrics & soulfully delivered vocals are wrapped in a 70's funky disco style vibe. This one will really get your groove on! 
The fourth single, a pop version of 'Climbing' was released in December 2020. Its highly motivating & empowering, and encourages everyone to keep moving on up! The official lyric video created in January 2021 is available now. 
New music has been produced and there's a whole new vibration on the way!  
Her tracks are intended to promote the listener to contemplate life, love, consciousness & inspire personal growth. 
Her vocals ride the audio waves, swimming amongst beats, electronic samples & harmonics. 
Her lyrics flow & elevate, sparkling with ripples of crystalline energy. 
Charleesa brings you Power, Love & her shinning Light!
"

A beautifully talented singer! I have been blessed to listen to her beautiful voice. Continue making your dreams come true and letting everyone get a taste of your voice which is hands down one of the best. The love you share with us through your music in your beautiful humble way is so very much appreciated, the world will be lucky to experience your sound the way that I have. Keep shining dear SiStar" - Amanda Baldwin
"

Charleesa's uplifting, motivational lyrics encourage you to feel better about everything. Her message is: love life & enjoy your experiences. She is a story teller who experiments with her vocals as much as with her styles. Listen to hear her complete range" - Jacqueline Williams
"

Charleesa performance is a dynamic experience, she conveys each message with determined strength & dance moves; her deliverance as compelling as the song itself! " - Slinky