Bio
Charleesa
A soulful English singer-songwriter creating electronic-pop music. 
Sensitive yet evocative lyrics are eloquently delivered with a crusader's passion through mellifluous melodies floating upon driving beats. 
Her narratives are elevating, empowering and emotive; some are also provocative & brazenly unconventional.
Charleesa sang Blues & Jazz and Ballads before diving into the Pop scene. Formulating compositions using a Boss RC-505 mk11 Loop Station, her sound has since transformed to become a captivating fusion of layered harmonics riding upon synth waves. Influenced by iconic idols Madonna, The Beatles, and contemporary artists Aurora, Dub FX, Sahida Apsara & Florence Welch; she now makes her kind of Electronic based music. 
Fans of Electronica, Synth-pop and Dance music will also be delighted by new songs, likened to those from Lady Gaga, Ladyhawke & Lamb.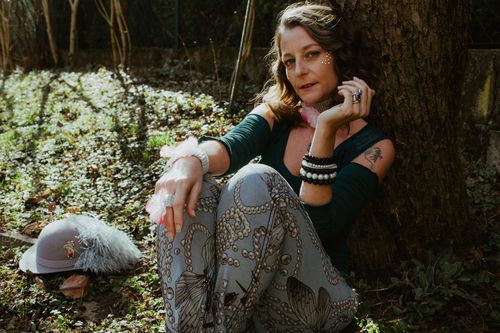 History
Charleesa's world has reverberated with music since she was enveloped by rhythm in early childhood. Home life; though variable was constantly resonant with an eclectic array of audio gems. She discovered a penchant for songwriting at the age of 3 and her first hit, 'I'm banging on the floor with a hammer' was a precursor to future catchy creations or 'ohr wurms' as they were later dubbed. 
Music frequently was and still is, a tradition. Her grandfather, a multi-instrumentalist Jazz musician was best known for his skills on the double bass. He toured England & Europe with his band, even performing underneath the Eiffel Tower and playing with British Clarinetist Acker Bilk. Her grandmother adores Elvis Presley, 50s classics, and musical theatre. One aunt was an ardent Glam Rock fan & avid 80s Pop follower and another was a dancing queen. Her mother Jacqueline, a singer, writer, and Holistic healer; was Charleesa's greatest supporter always boosting her confidence to sing whenever opportunities arose. She notably once joined her on stage for support and switched off her microphone to make sure that her daughter's voice was the only one to be heard. Several of Jacqueline's poems were published and are now being encompassed in songs. Sound creation continues to string the family together, Charleesa enjoys singing with budding musician/singer-songwriter cousins and with her young son who's already a keen drummer, in German as well as English. 
Growing up in the 80s/90s, at a time when the British Pop scene was exploding; Charleesa was influenced by the music of the generation. Regularly tuning in to The UK Chart Show, BBC TVs Top of the Pops &  MTV she learned to sing like artists she admired. At age 14, despite extreme nervousness, she entertained classmates who awarded her a standing ovation for her first 'real' song.  
Throughout her 20s she composed striking songs, embracing the abundant creative freedom she experienced from her life in Southern England & travelling around Asia. In the beginning, she sang covers songs only acapella, sending bustling rooms into astounded stillness with her smooth sultry vocals. High praise encouraged her to introduce original material, enchanting audiences with profoundly poignant text and a unique ability to contentedly sing completely unaccompanied so rapturously.  
She became the lead vocalist of The Bloozy Toonz and composed a jazzy number 'LMTD Dreaming' whilst picking Apples in an orchard in Kent. It was a whimsical tale about going to India, that she brought to life with a guitarist and co-composer upon her return to England. They recorded an alternative version, making an EP of both singles plus an 'in action' video inside a converted caravan in 2013. 
Her inspiring song 'Keep Climbing' was made in Goa and after receiving a free download, a fellow adventurer successfully ascended the summit of a mountain; motivated by the strengthening lyrics. This gave Charleesa new insights into how her music affected people. Called by the sound of music, she relocated to Austria where she now lives full-time. She found a studio where she reworked her most empowering songs into Pop singles which she released through digital distributors, intending to reach wider audiences. 
What was once a need for expression had developed into a fierce urge to pursue her life-long dreams and fulfil her true purpose. 
Although Charleesa has created music in several styles, she found her place within the electronic music scene in 2020 when she teamed up with a DJ turned music producer to make electro-pop songs in his home studio. It was probably the most natural progression for a self-confessed groove addict. 'I started to work with DJs and producers in the late 2000s and it simply felt more like home to me than classically building songs with musicians or in a band setting. I love special effects and 360° directional changes when I'm listening to or making music. When you're using Moogs, polyphonic keyboards & drum machines to highlight the foundation, there's an interesting scope for stepping outside of the box to form a distinctive pulse. Instruments can then be added when desired to enhance certain elements, whether that's a piano or my grandfather's Bass guitar.' Charleesa's entry into a new genre has resulted in a bold fusion between a storyteller's tale with dance-floor vibes. She recorded a brand-new single which also includes an alternative version & filmed her first music video. Further tracks are emerging from the pipeline & 5 songs are currently at the end stage of production. 
Highlights
Charleesa was featured in Medium, British Invasion, Viennese GOT & a Nepalese magazine. 
She hosted Live Sessions, sang at Goa's Anjuna Flea market, appeared on Brighton's underground radio & supported local artists in Hove. 
 Her first Pop single In Sunland was released in May 2017 going straight into the iTunes charts. Things to smile about was released in July 2018. The release of Powerhouse caused a storm with its 70s disco-style in 2018; a lyric video arrived later on YouTube. 
The musical journey soared as she flew to Ibiza, singing for friends at their wedding in October 2018 & performing at Radio City, Valencia in 2019.  Climbing the Pop version came out onto online platforms, whilst Charleesa was in England in December 2020.
She sang at the Eden Bar and the Tunnel in Vienna and her singles played on Austria's online radio stations KronehitYAM & KronehitLOVE, whilst in America, they were on Women Of Substance & A.V.A Live Radio.  
Charleesa loves diversity and has created numerous variations of her songs in multiple genres. They've been remixed by House music producers & sampled in Trance tracks, these collaborations enable her to explore new dimensions with influential messages. 
"

A beautifully singer! I've been blessed to listen live to her amazing voice which I feel is hands down one of the best. She's making her dreams come true & sharing powerful love through her music in a humble way. The world will be lucky to experience her sound the way I have. Keep shining SiStar" - Amanda Baldwin
"

Charleesa's lyrics encourage & empower, she's a story teller experimenting with vocals & styles. She's a dynamic performer conveying messages with determinded strength, the delivery as compelling as the song itself! " - Slinky